Gwen Stefani, the ska siren turned pop icon, and more recently turned celebrity
Voice
coach—is back in the studio making music again...
... for her next solo album, AND a new record with No Doubt...
... AND, Pharrell is involved with both...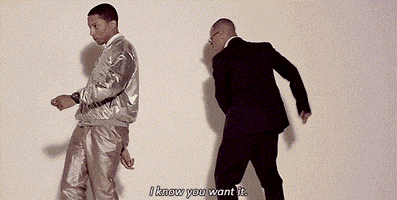 Williams, who can't seem to do anything wrong, was the producer on Stefani's 2005 hit "Hollaback Girl." So, like, THIS NEWS IS BANANAS, B-A-N-A-N-A-S! — Yeah it's a pun, sorry for partying — Williams didn't give much away when asked about the collaboration, but he did say this: "Gwen is somewhere else. The last time I said this about Miley everyone was like, 'What? That's Hannah Montana,' and I'm like, 'What? I'm trying to tell you." And I'm like, 'What? Pharrell I trust you implicitly!'.