As I've alluded to in previous posts, Black Sabbath was my first true musical love as a fourth grader in the mid-90s. Although the Ozzy-affiliated albums had infiltrated ears with demonic rock well over a decade before I was born, I still thought these guys were the fucking coolest, therefor deeming me the coolest eleven-year-old ever to live. Fifteen years later, I was initially excited to hear Ozzy would be teaming back up with his founding lineup (as well as Rage Against the Machine's Brad Wilk on drums) to record their first album together in over 35 years,
13
. But then I remembered exactly why I ditched 70s rock darkness back in the 90s - a dumb reality show spoiled my fantasy illusion of my favorite rock icon.
Thanks to whoever the hell at MTV decided to
Leave It to Beaver
Ozzy Osbourne, I was forced to see my evil idol as the fumbling, bumbling idiot he truly was. Last week we were given our first sample of
13
, and it's called "Is God Dead?". Seriously? Back in 1970, they would have assured us that God was totally dead, and Ozzy would have bitten his (or her) damned head off, but suddenly they're unsure? If the intention of
13
was to get us to listen to old Black Sabbath records to shake the terribly soft clogs out of our ears, consider it a success. I want my wizards, war pigs, and psychosis. This won't cut it.
The Osbournes
was the first of many "reality" shows that devoured our associations of our most idolized rock icons as mystical beings of sex, drugs, and everything else taught to be terrible. The success of this show created a media shit-storm where every network raced to scoop up their best (and probably cheapest) washed-up rock 'n' roll figureheads. It was an all-out sprint to rediscover relevancy.
I hate to theorize publicity conspiracy, but isn't it also a bit peculiar that the day before they premiered the album's first single, Sharon Osbourne suddenly announced she's
leaving her husband
of 31 years, until he proves he can remain sober? Perhaps the marketing gurus see what I'm talking about and feel it's necessary for Ozzy to once again embody the bachelor rock star to regain the attention of an apathetic fan base.
The main point I'm trying to address is that reality television killed rock 'n' roll a long time ago. This list of television travesties that turned our rock gods into pop culture punch lines should solidify my case.
1. Rock of Love with Bret Michaels
In the 80s, this dude could get any woman he wanted. Unfortunately for him, the same exact women are still chasing him. And thanks to VH1, he now looks like one of them. Nothing says rock 'n' roll like the trashy soccer mom/Charlize Theron in
Monster
look.
2. Surviving Nugent and many more outspoken and ignorant television appearances.
Since resurfacing in shitty outdoorsy shows, every time Teddy opens his mouth, he spews political farts. Nothing screams intelligence like a sleeveless button-up and a camo cowboy hat. Ted was long recognized for his abstinence from drugs and booze, and he somehow turned out to be the most brain-dead of all his peers.
3. Gene Simmons Family Jewels
That's Shannon Tweed on the left; she's kind of old, but still super-hot. I don't know who that fat-faced dude on the right is, but he better get outta there before her face-painted, big booted bad ass husband Gene Simmons shows up. Wait. No! What?! No! Gene most recently showed up on a Travel Channel series called
Toy Hunter
which airs right after a show with a legless dude traveling around the world. This is how they're replacing Anthony Bourdain...
4. Steven Tyler on American Idol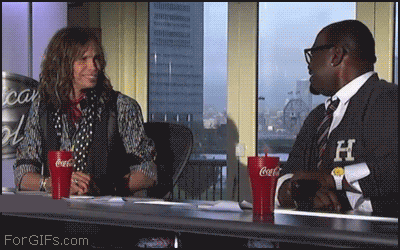 Steven Tyler dug himself so deep in the lame pit of a Nick Minaj feud that he thought reminding us of the extent of his drug use in the 70s would reestablish his rock star cool. In this case, gotta give some cred to Ozzy 'cause he took the full plunge off the wagon to reinstate his rock legitimacy. P.S. Steve, you lost us when you made "Pink."
The list goes on, and includes former icons like Tommy Lee, Dee Snider, Meatloaf, Vince Neil, Sebastian Bach.
In conclusion, I have a little message to all of the reality TV producers out there who have ruined rock 'n' roll...