Coachella: a magical desert world of booze-addled dehydration and peyote fueled music binges. Among the throngs of people out to see such mega-entertainment-machines as Kanye West and Arcade Fire were a few rambunctious tweeters. We picked our favorite five, which certainly doesn't include anything from the derogatory playground known as Tyler The Creator's feed (but we did love his choice
words for the security guard who kicked him out
. To tweetfinity, and beyond!
First off, the obligatory pun-assination of Coachella by the comic Robert Kardashian.

As you may have guessed, the disgusting beverage/foot combo belongs to Coachella's most infamous attendee, Frank Reynolds.
Funny Or Die doesn't have to look far to find the first giggle.
Sounds like an awesome show, great job!
And finally, Pitchfork wins with their meta-critique of Arcade Fire's audience participation: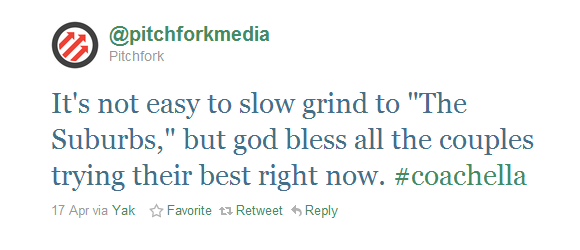 Got other tweets? Email 'em to
info@baeblemusic.com
!