As much as it pains us to admit, tangible music is almost gone. It's a digital age and we're stuck in an analog mindset. Technology has revolutionized the way that we consume music. Things like iPods and Spotify are wonderful (I use both everyday) but a charm gets lost in the shuffle. Album artwork and packaging were huge parts of the album itself. It's what drew the listener in, caught the eye, and created the desire to pick it up. When I was younger, I can't tell you how many random CDs I picked up based solely on album covers, regardless of what the band was. The Pixies'
Surfer Rosa
, Rage Against The Machine's
Evil Empire
, and Weezer's self-titled (
The Blue Album
) were all bought (that's right, bought! Like, in a store!) based solely on their covers with no pre-conceived notions of what I was about to put my ears through. It is with this in mind that we take a moment out of our day to look back on some of our favorite album covers of all time. Feel free to throw your favorites in the comments section and to let us know what was overlooked (or over-rated).
*Note: This is no way a complete or comprehensive list, just some of my favorites. Also, this is not to say the art of artwork is completely dead. Sometimes bands still hold it down and put effort into how their albums are presented, but the concept has taken a big blow and is now largely overlooked by consumers.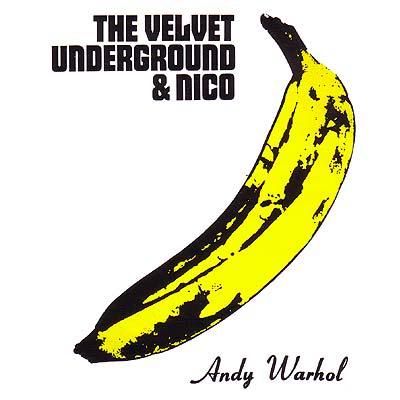 The Velvet Underground
,
The Velvet Underground and Nico
- Beautiful in it's stark simplicity, this album cover catches the eye. The stylized banana, provided by pop-artist legend Andy Warhol, on a plain white background somehow manages to speak volumes about the band: they're odd yet cool, they get something that we don't, but we want to.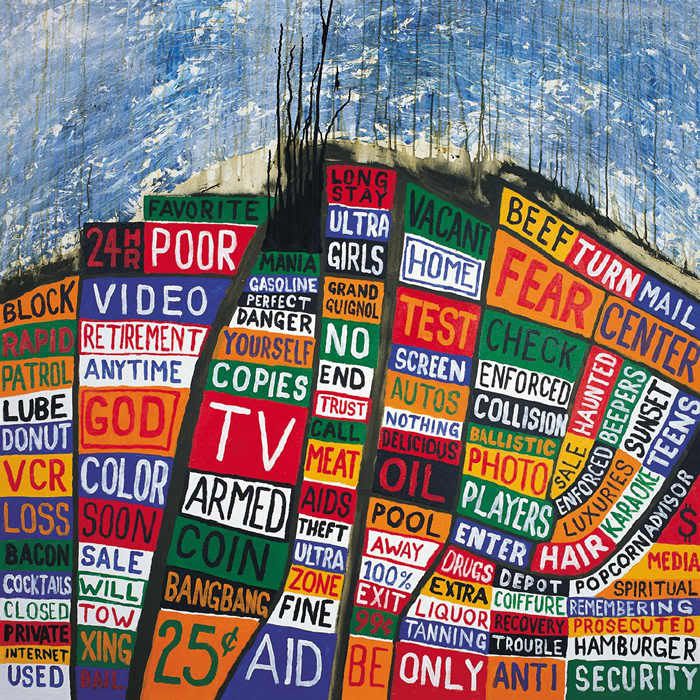 Radiohead
,
Hail To The Thief
- The vibrant cover of Radiohead's
Hail To The Thief
features an amalgamation of random buzz words that seem to convey the band's fear of society at large, something the actual album does quite nicely as well. "Danger," "Aids," "God," and "Bacon" all have their own individual spot in Radiohead's universe, for better or worse.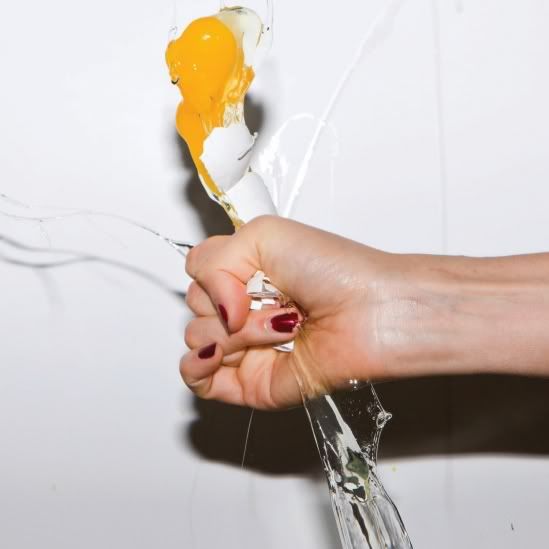 Yeah Yeah Yeahs
,
It's Blitz!
- It's simple, chaotic, violent, and enthralling simultaneously, just like the Yeah Yeah Yeahs.
Beck
,
The Information
- This album cover is on here due to sheer creativity. Complete with stickers, the album cover was whatever you wanted it to be. The only limitation was your own imagination. You could create whatever meaning your little heart desired, or just have fun with it and start sticking things anywhere.
New Order
,
Power, Corruption, and Lies
- This cover is a recreation of a painting by French artist Henri Fantin-Latour. The color scheme is said to not only represent the band, but the ways in which power, corruption, and lies enter our lives: through seduction, according to art director Peter Saville.
Arcade Fire
,
Funeral
- The Arcade Fire's full length debut was an album full of heartbreak and sorrow about members losing the ones closest to them. The hand held feather with its sprawling flowers give the cover a timeless charm that songs are able to back up.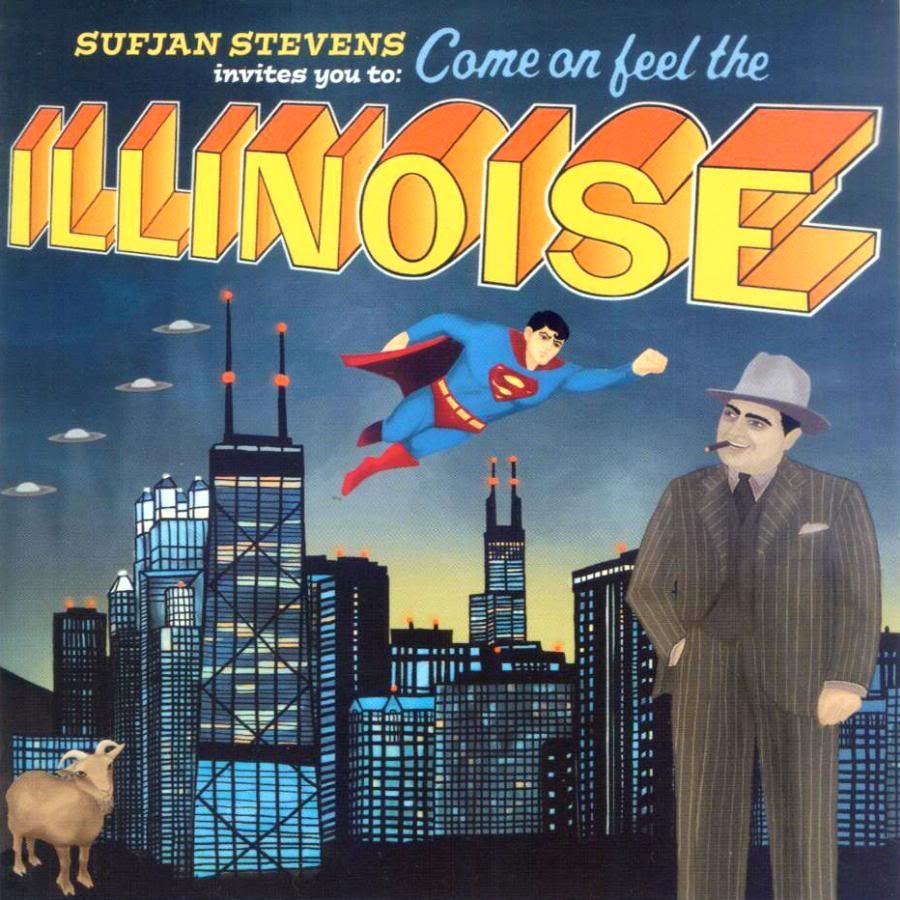 Sufjan Stevens
,
Come On! Feel the Illinoise!
- Stevens and his record label, Secret Canadian, got into a bit of trouble for this album cover for using an image of the Man of Steel flying over Chicago and what appears to be Al Capone. Superman, property of DC Comics, has since been removed from subsequent pressings, making the originals extra cool and extra rare.
Lil Wayne
,
Tha Carter III
- Love him or hate him, you have to respect Lil Wayne for creating such an iconic album cover. Playing off the gangster-baby artwork of
Ready to Die
and
Illmatic
, Wayne takes it a step further, adding his signature face tats to an adorable baby in one hell of a baller's suit.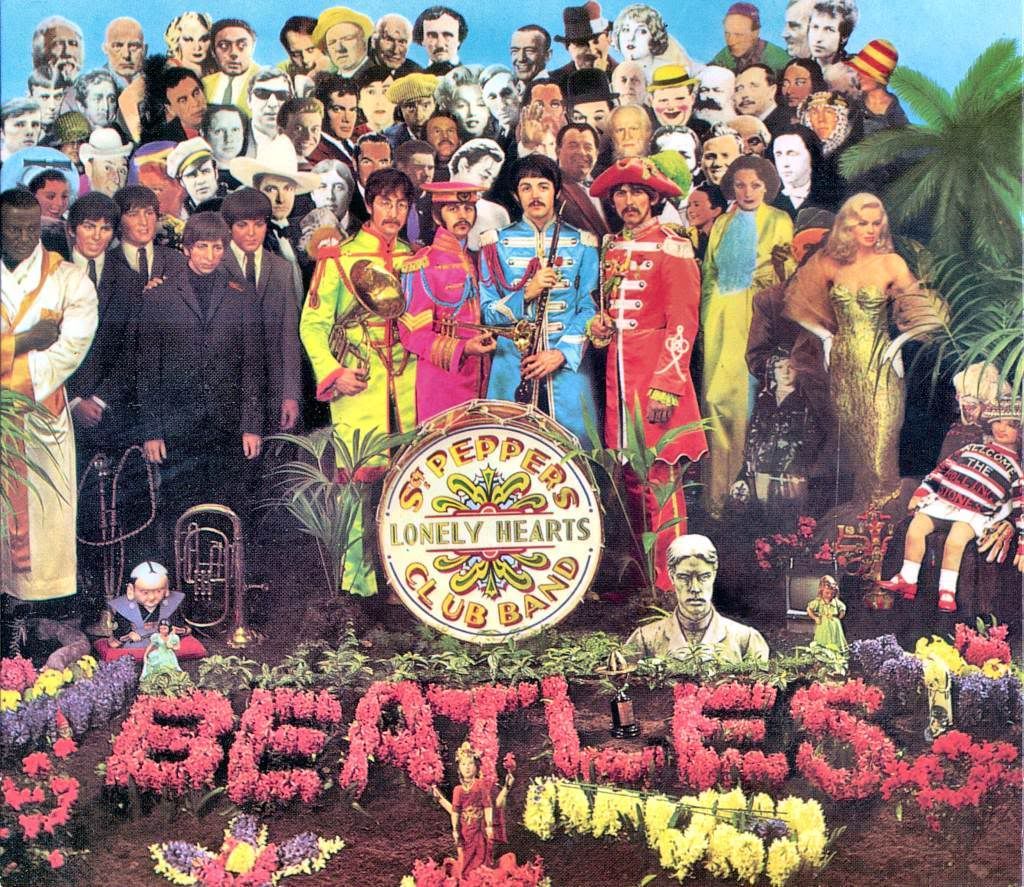 The Beatles
,
Sgt. Pepper's Lonely Hearts Club Band
- What discussion of great album covers would be complete without this entry? It features a cavalcade of characters, apparently the Fab Four's dream audience to play for. It includes Edgar Allan Poe, Bob Dylan, Karl Marx, and Sigmund Freud. Each Beatle appears twice, calling back to their origins. Some people the Beatles wanted on the cover but were turned down for being too controversial? Jesus Christ and Adolf Hitler.
Rolling Stones
,
Let It Bleed
- This one is still a mystery to me. The band is in miniature form on top of a cake which is on top of a tire(?) which is on top of more Stones' records while one is getting spun? Frankly, I don't know nor do I care. All I know is that it looks amazing, something that I can't take my eyes off of.
The Clash
,
London Calling
- Riffing off an album cover from Elvis himself, The Only Band That Matters showed the world what the were in for with the cover of
London Calling
. It doesn't get more punk-rock than smashing a guitar for the cover over neon pink and green bold-faced letters.
Ben Kweller
,
Sha Sha
- A cover as off-beat, quirky, and charming as the songs that it contains. Somehow Ben Kweller makes monotonous grooming habits seem fun and different. Even that one hanging letter suggests that something is definitely going to be a bit off when you pop this album in.
Andrew W.K.
,
I Get Wet
- Definitely one of the most bad-ass covers ever pressed. The cover sums up Andrew W.K. in a single shot. It shows how Andrew will get totally wrecked and just not care, so long as he still gets to party.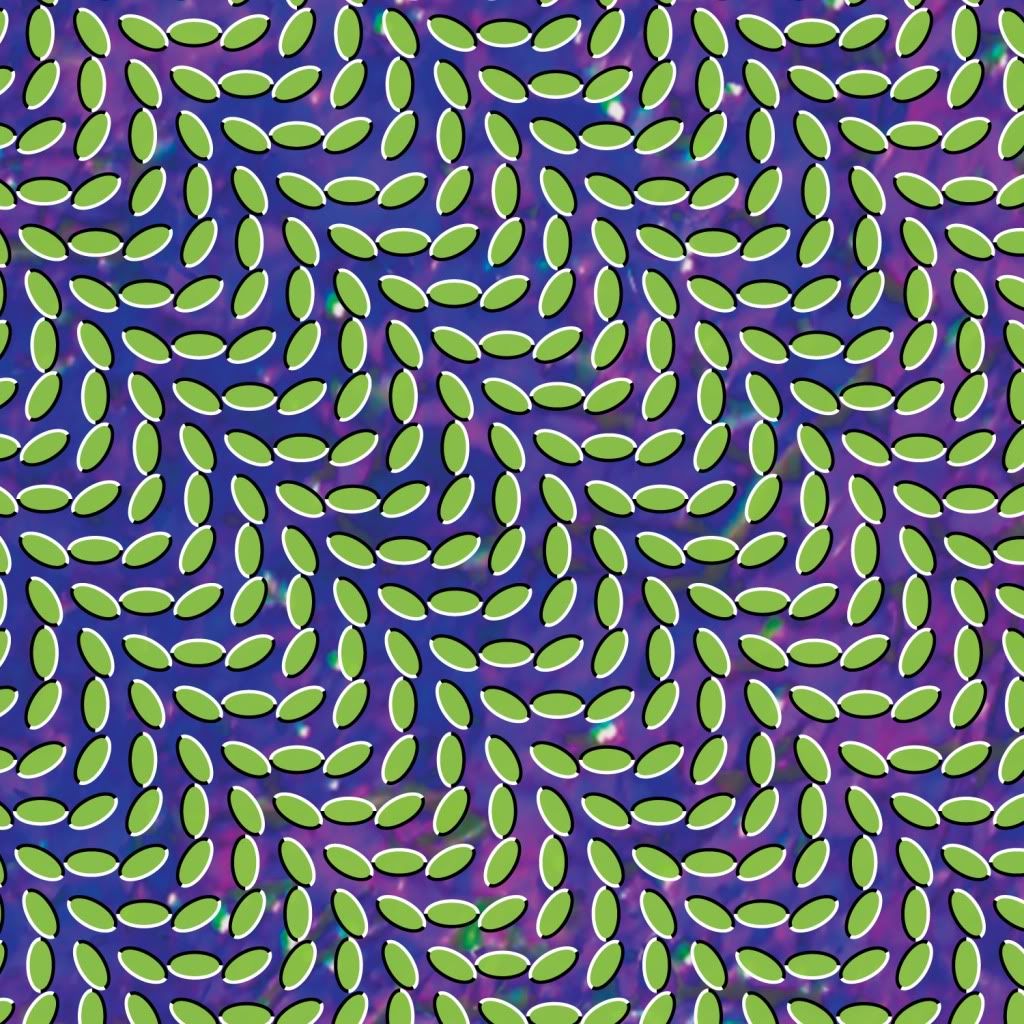 Animal Collective
,
Merriweather Post Pavilion
- No, you're not stoned. Well, maybe, I don't know you but the cover for this album is supposed to be moving. The optical illusion is transfixing to say the least and definitely draws people into the album.
Arctic Monkeys
,
Whatever People Say I Am That's What I'm Not
- Simple and basic but packing a big message, this cover perfectly embodies the theme of the album: going out, getting drunk, trying to get laid, and becoming increasingly more frustrated as you go along. Yes, that is what almost every rock song is about but Arctic Monkeys pull it off with a grace and ease that makes them special. The glazed over eyes and in-need of being ashed cigarette all speak volumes to how this man's night is going.