Today is the day! We've partnered with
Boxee
to be one of the first to bring an expansive library of music content from the web to your living room. Finally,
you can buy your very own box.
As we mentioned last week, all of our library, including full concerts, can soon be seamlessly streamed from the web to your TV via our Boxee channel.
Why the jump? Because Baeble is about demand; all of our shows, whenever you want them. A recent partnership with MSG to power an hour of original, performance based content ("Indie NYC") marked a promising first step towards finding eyes in the living room. In Boxee, we've found a next generation entertainment provider that dramatically expands upon our ability to meet the publics demand, bringing our entire library from the web to your home entertainment center in one easy step.
It has always been our goal to continue enhancing the experience of watching our unique, long form concert/performance videos. This exciting partnership marks our first opportunity to take dramatic steps towards the kind of integrated television web browsing experience we've been waiting years to make. Boxee shares our ambition and we're happy to be supporting them with our entire library of shows for their launch.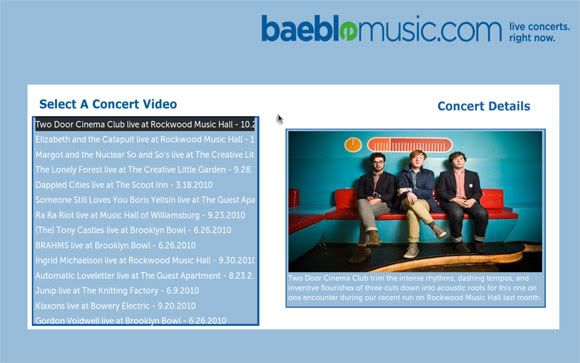 Head to
Boxee
for more details on the launch and the current offerings. -
joe puglisi
In Other News...
CEO: Vevo Working on a Boxee App: Video «
Boxee Blog » Giving Away a Boxee Box at Music Hack Day
Boxee Founder Avner Ronen On The Future Of TV (Video) - PSFK
Boxee Box by D-Link | America Shopping
Boxee Looking for Big Funding Round | Peter Kafka | MediaMemo | AllThingsD
Boxee Beta A New Face to Home Theater | The Gamers Blog
Boxee App for streaming and storing your music files | Tekouse Blog
Boxee Box vs. Apple TV
The Boxee Box Now Available To Pre-Order | Can It Compete With Apple TV
DeviceGuru-D-Link Boxee Box now available for pre-order