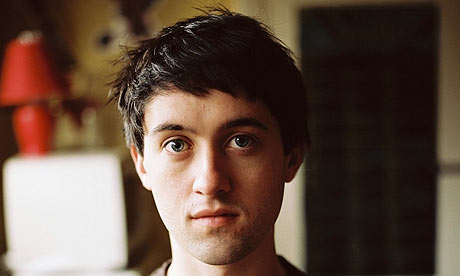 Opening for Neil Young is a pretty big deal. I mean, it's Neil Young. You know what else is a big deal? Being compared to Leonard Cohen. To do both is a challenge, yet Dublin-based
Villagers
has already managed to do so. I could stop right there because that pretty much tells you all you need to know. But I like to talk. Hot off their U.S. debut in New York City and at SXSW, the band describe themselves as "alt-rock hobbits." I'm not entirely sure what that means, but I'd describe their sound as "soulful dark Irishmen." Maybe that's the same thing. Villagers is the alias of solo artist
Conor J O'Brien
, but when he's tired of being alone it becomes a band made up of
Cormac Curran
(piano, organ),
Tommy McLaughlin
(guitar),
Danny Snow
(bass),
David Crean
(keyboards), and
James Byrne
(drums). Their music is dark, very dark, and O'Brien's voice is versatile: It goes from a soft almost-whisper to a full blown wolf howling away at the moon. They released their first EP in 2009, and their first full-length,
Becoming a Jackal
will be released on Domino Records in the U.S. on June 8th. Currently Villagers is touring with Tindersticks in Europe, but they will return stateside later this June.-
hanna kasper
Villagers' Video For "Becoming a Jackal"
* * * * * * * * * * * * Villagers on Myspace